BraceS IN DOWNTOWN TORONTO
Lower Cost Braces Treatment at our dental clinic in downtown Toronto.
Straighten your smile with braces. Our goal is to change your smile in a fast, easy and affordable way. At R U Smiling Dental, we help you understand the different orthodontic treatments for you so you can make the right choice. Book a free Braces consultation at our downtown Toronto office and discuss your smile goals.
How do Braces work?
Braces work by putting pressure on your teeth over a period of time to slowly move them in specific positions. Traditional braces use wires, elastics and brackets to move your teeth into place. Not only can braces fix any aesthetic issues with your teeth, they can also fix bite and alignment problems.

Periodic appointments every 4 to 6 weeks over the course of an average 9 to 18 months

The average cost of the procedure is between $3,500 and $8,000 with financing options available.

Teeth alignment will be permanently retained as long as you keep up maintenance to prevent shifting.
affordable braces at our downtown toronto dental clinic.
Thinking of straighter teeth?
Suitable for All Ages
Suitable for all ages, it's never too late to consider straightening your teeth with braces.
Effective for Complex Cases
Traditional braces are very effective for complex bite issues or complex teeth alignment problems.
Customized Treatments
Each treatment is unique and customized to you so you can reach your smile goals as fast as possible.
Correct Your Bite
Teeth alignment can correct your bite, crowding, gaps and improve chewing comfort.
Boost Confidence
A radiant smile will boost your confidence and make you want to show it off more often!
Improve your Oral Health
Reduce plaque by making your daily brushing and flossing more effective. Straight teeth minimize the gaps and crevices where food can get stuck, allowing your toothbrush to do its job.
Braces vs Invisalign, which is better?
In comparing braces vs Invisalign, it's a tight race. If you're an adult or have a teen, who tends to be self-conscious, Invisalign may appeal to you. And the fact that it's removable so you can eat, drink, brush and floss more naturally, may sound desirable. But if the idea of having to remove your trays for meals or while drinking anything but water seems inconvenient, Invisalign may not be the best solution for you. Plus remember, you should brush after each meal before putting your trays back in, to avoid staining. For younger children and teens, braces is usually a better option since they don't have to be responsible for removing the trays and putting them back in after each meal.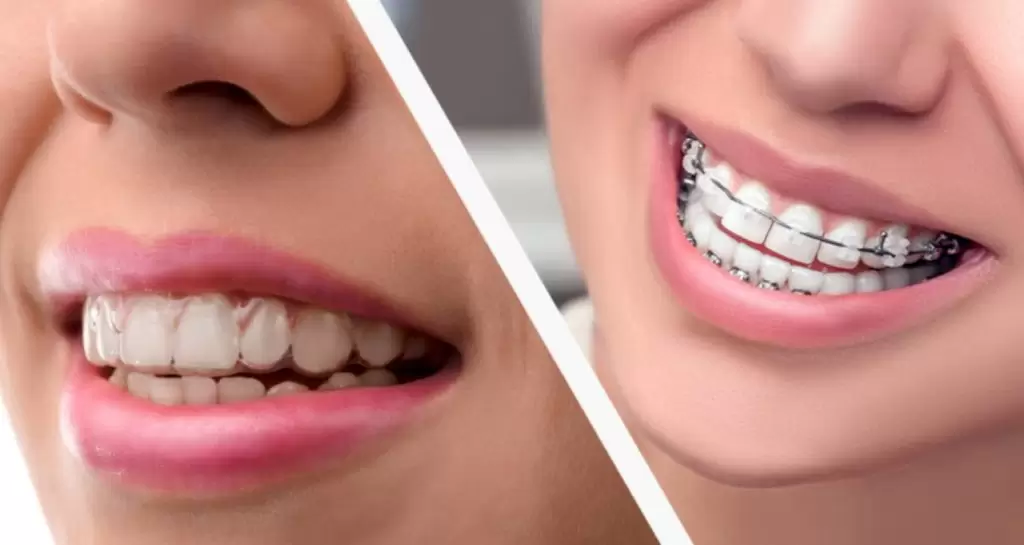 Free Braces Consultation
Begin with a FREE consultation during which time the dentist will determine if braces will work for you and you get the opportunity to ask any questions. 
Customized Treatment Plan
The dentist will take impressions of your teeth, x-rays and photographs in order to develop a customized treatment plan that will guide the alignment of your teeth.
Attaching your Braces
Your dentist will attach brackets to your teeth and run wire through the brackets. You might also be required to wear rubber bands to correct your bite problems.
Periodic Check-Ups
On a regular basis, you will come in to ensure the progress of your treatment plan and make adjustments as required.