Suresmile
clear aligners
DOWNTOWN TORONTO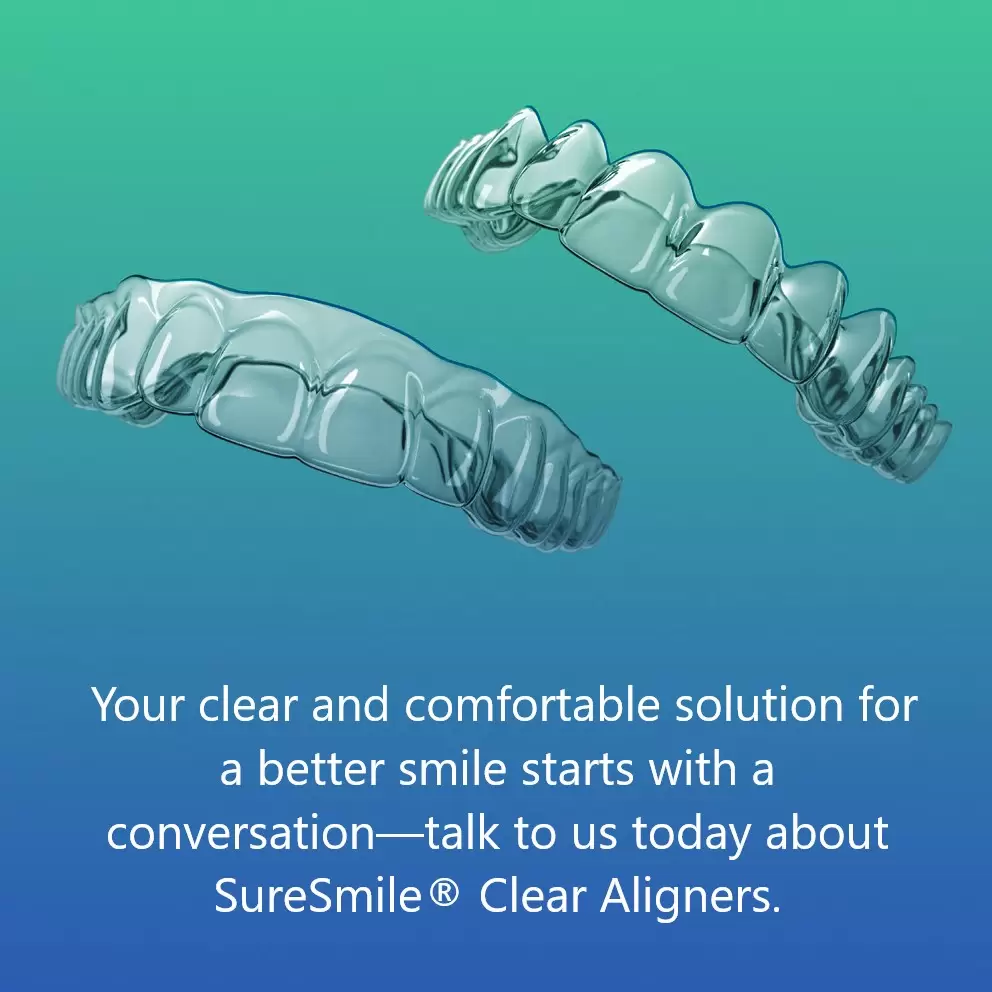 Straighten your teeth with SureSmile

®

 Clear Aligners at our downtown Toronto dental office.
SureSmile® Clear Aligners are an orthodontic treatment that works to gradually straighten your teeth with custom-fit, removable clear aligners.
SureSmile® uses a 3D computer software that examines a person's mouth and enables them to plan out every tooth's movement during a patient's orthodontic experience. Once the 3D model has been taken, SureSmile® then creates customized aligners to match your treatment plan. SureSmile® has transformed the way patients think of braces and Invisalign.
Get the smile you have always wanted that fits your budget.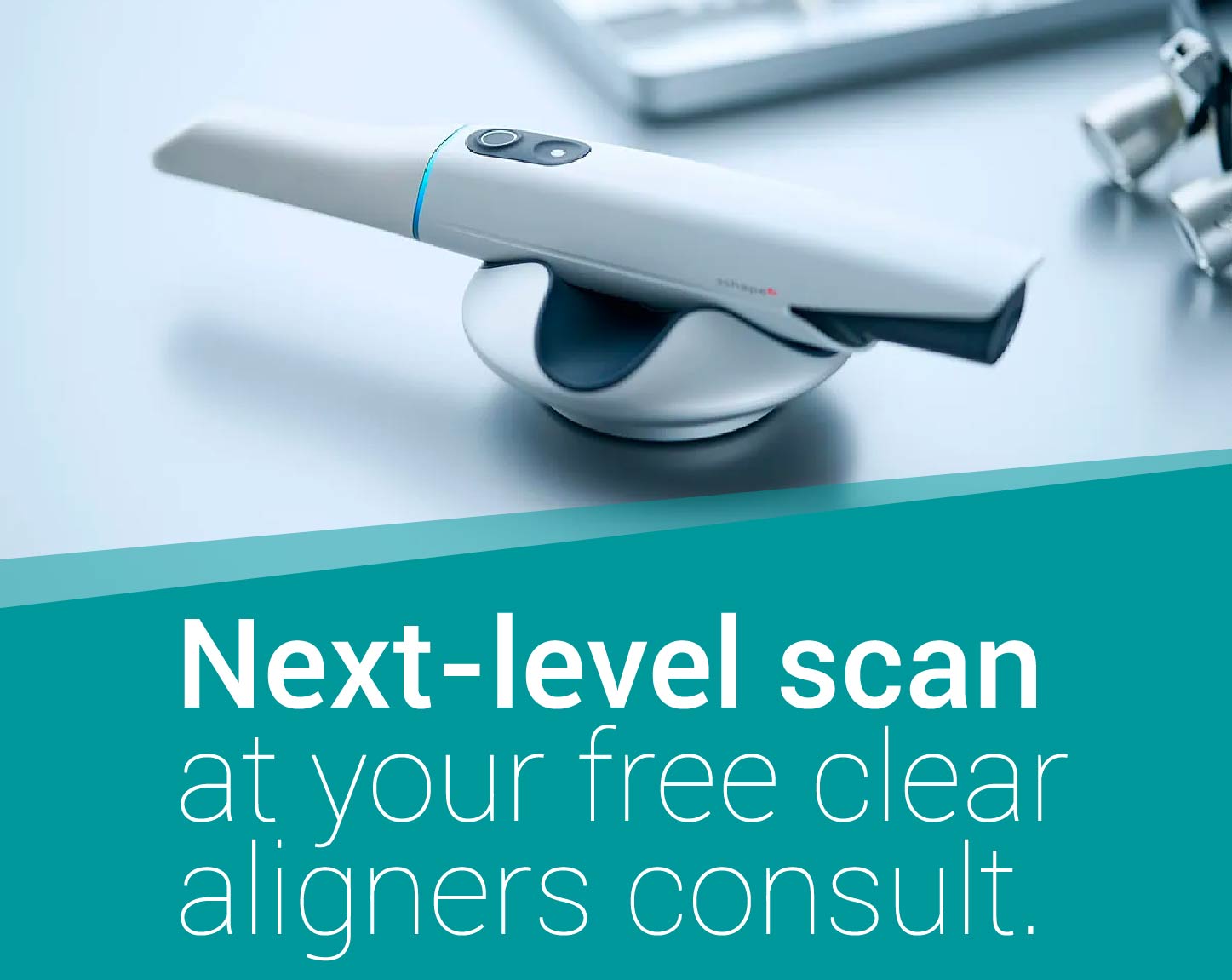 3D Scan at your Free Clear Aligners Consultation
With our intelligent Trios 5 Wireless Scanner, we can do a full digital scan of your teeth within minutes. No need for messy impressions or uncomfortable mouth pieces. This intraoral scanner eliminates inaccuracies and takes a full 3D impression of your teeth and gums. When you come in for your free Clear Aligners consult, you will be able to see a full scan of your teeth using our latest scanner.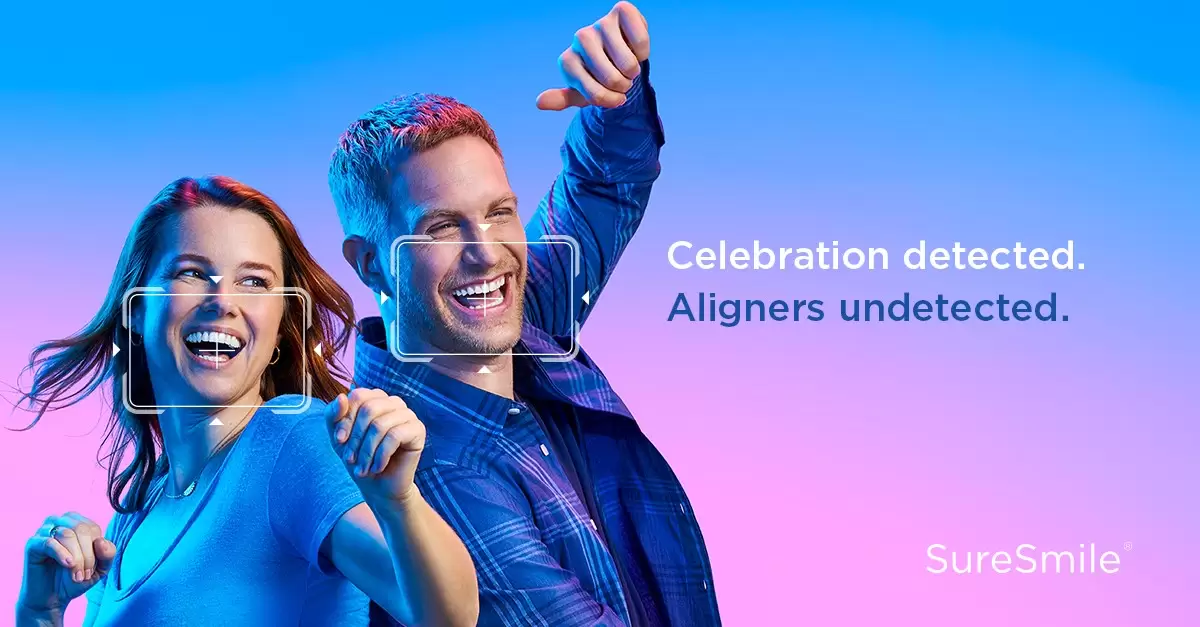 Periodic appointments every  6 to 8 weeks over the course of an average 9 to 18 months

The average cost of SureSmile is between $3,500 and $8,000 with financing options available.

Teeth alignment will be permanently retained as long as you keep up maintenance to prevent shifting.
How are SureSmile

®

 Clear Aligners different from other aligners?
SureSmile® Clear Aligners are designed using a customized treatment plan developed from the proprietary software and SureSmile® Digital Lab experts who work directly with your dentist.
Once your treatment plan is developed, SureSmile® will manufacture your aligners using advanced technology to achieve aligners with smooth edges for ultimate comfort. This process enables predictable results. You will know what to expect and when to come in for check-ins. We know that when clear aligners don't interfere with your daily routine, you can achieve a healthy, beautiful smile.
What type of orthodontic issues can SureSmile

®

 fix?
SureSmile® is effective for most orthodontic problems including:
Misaligned Teeth
Crowded and Crooked Teeth
Overbite and Underbite
Crossbite
Openbite
We encourage you to book a free consultation at our Toronto downtown dental office and see if SureSmile® clear aligners are right for you.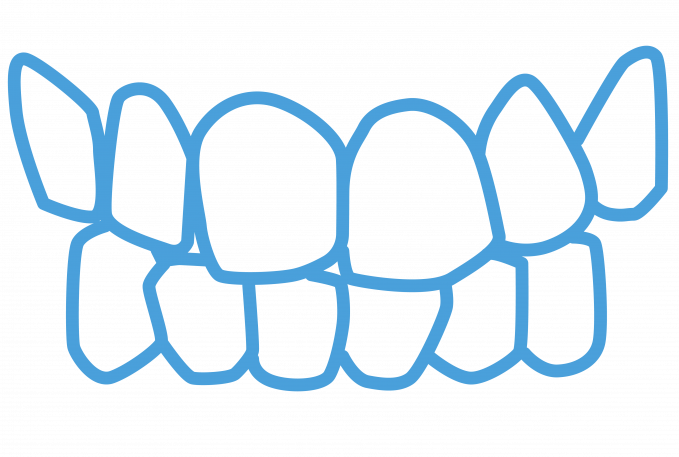 The SureSmile

®

 Journey. How Does SureSmile

®

 work?
Initial Appointment
It all starts with a digital scan. Your doctor takes photos and a digital scan. No messy impressions are needed.
Customized Treatment Plan
Your dentist and the SureSmile® Digital Lab experts work together to develop a customized treatment plan just for you. On average, plan for about 2-4 weeks from your initial appointment to receive your aligners.
Start Treatment
Return to your dentist to receive your new patient welcome kit, SureSmile® Clear Aligners and SureSmile® VPro™ High Frequency Device (if your dentist recommends). Expect to wear your aligners for two weeks or as prescribed by your dentist. Your dentist will tell you how frequently to change your aligners and how many hours per day to wear them.
Regular Check-ins
You'll visit your dentist for ongoing check-ins and support to ensure treatment stays on track.
Maintaining your beautiful straight smile
Once treatment is complete, you'll receive SureSmile® Retainer as directed by your dentist to ensure your new smile lasts after treatment has ended.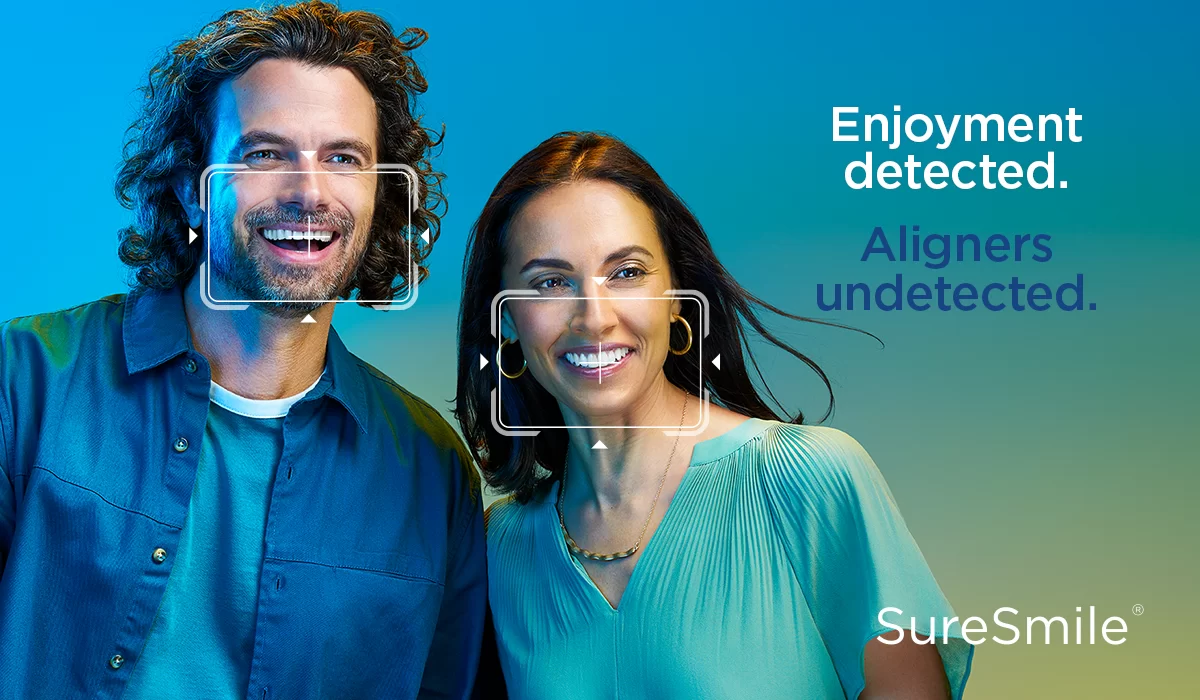 With SureSmile

®

Clear Aligners, you will receive the support you need for a more comfortable, predictable treatment process. Our patients love SureSmile Clear Aligners!
With fewer visits to the dentist, less soreness or discomfort and shorter treatment times, SureSmile is an excellent option when it comes to straightening teeth and fixing orthodontic/bite alignment issues. Book your free consultation at our downtown Toronto dental office to see if SureSmile will work for you.
Get SureSmile Clear Aligners in downtown Toronto. Book a free consultation.
WANT TO STRAIGHTEN TEETH?
Predictable Results
Your customized treatment plan is developed by real dental experts at the SureSmile® Digital Lab who partner with your dentist to understand your unique smile and desired outcomes to make sure you get the results you want in the time you expect.
Effective and Discreet
As effective as traditional braces for mild to moderate misalignment while remaining invisible using clear braces.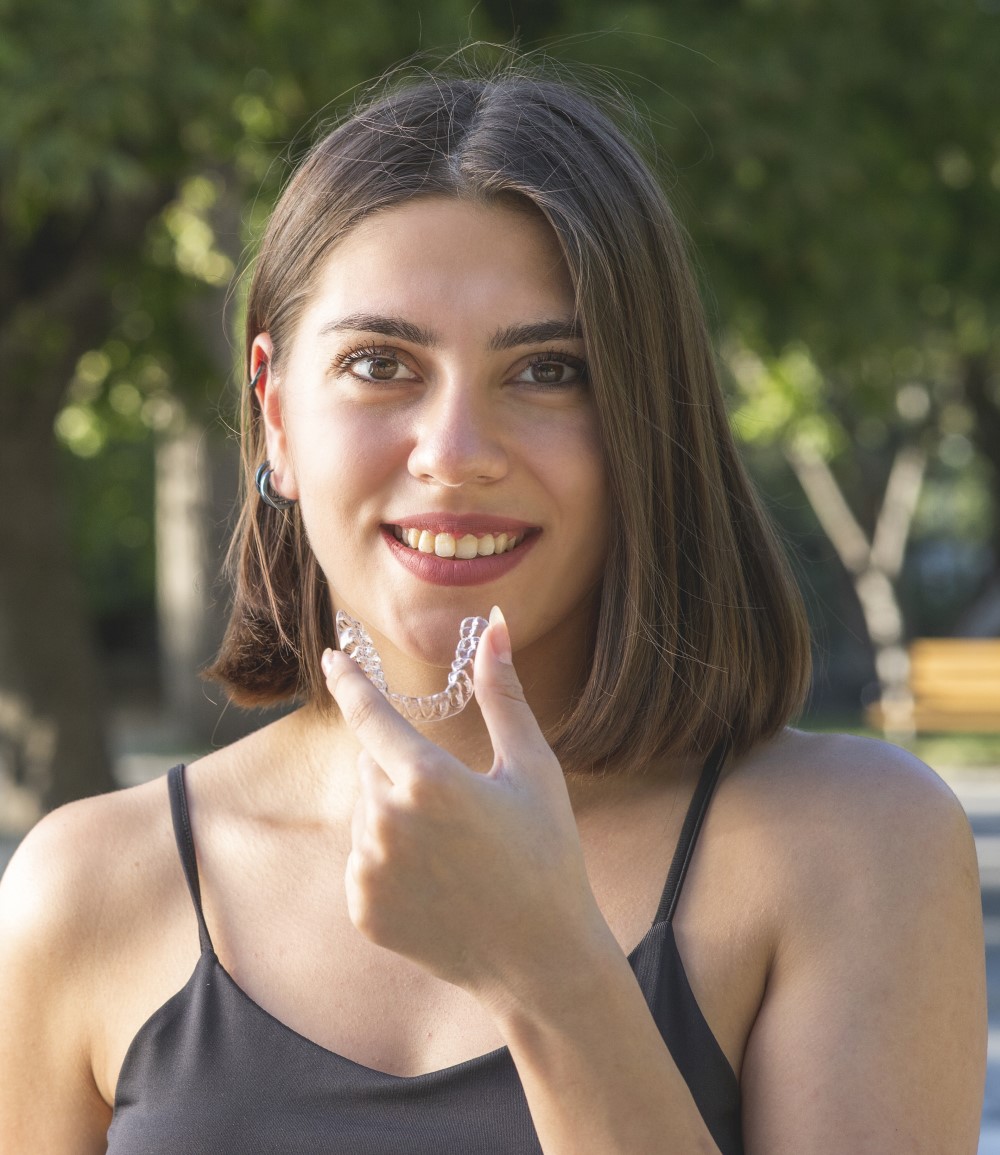 No Need to Change Your Lifestyle
SureSmile® aligners are made for comfort and in most cases do not cause soreness or discomfort. You can eat whatever you want while going through your treatment. Clear Aligners are removable and can be easily cleaned.
Support to Stay on Track
Your dentist will monitor your progress throughout your journey to ensure treatment is going as planned. Treatment times are shorter and more predictable than traditional braces.
READY TO START SURESMILE?
THE SURESMILE CLEAR ALIGNERS PROCESS
FREE SureSmile Consultation
Begin with a FREE consultation during which time the dentist will determine if SureSmile aligners will work for you and you get the opportunity to ask any questions. 
Customized Treatment Plan
The dentist will take impressions of your teeth, x-rays and photographs in order to develop a customized treatment plan that will guide the alignment of your teeth.
Wear and Rotate Retainers
Each set of aligners is worn for approximately 2 weeks. New retainers will be provided as you progress. The retainers are removable allowing you to easily brush, floss and eat.
Periodic Check-Ups
Every 6 weeks, you will come in to ensure the progress of your treatment plan and make adjustments as required.